What's Happening at St. Andrew's
The Week of  January 14, 2018
| | | | | |
| --- | --- | --- | --- | --- |
| Sun | 14 | Celebrant – Gene Crawford+  | |   |
| | | Adult Forum Adult Forum:"Eager to Love" by Fr. Richard Rohr, Chapters 8 & 9 | 9:00 | AM |
| | | Vestry Meeting | 12:00 | Noon |
| Tue | 16 | Woodcarvers | 9:00 | AM |
| Wed | 10 | Stitchers | 9:00 | AM |
|   |   | Area Art Club | 9:00 | AM |
|   |   | Pub Theology | 5:30 | PM |
| Thu | 11 | Choir Practice | 5:00 | PM |
Worship Leaders:
January 21 – Anne Carriere+
Upcoming Events at St. Andrew's
Jan 28 – Annual Meeting @ 9 AM with a potluck brunch.  PLEASE COME.  We'll elect a new vestry and have a report from the search committee. NOTE:  We have three candidates for two openings; you'll find the candidates' bios on a separate sheet.  Nominations will be taken from the floor.  According to the canons: The qualifications for a member of the parish vestry shall be as follows: A confirmed communicant of the parish in good standing of not less than 16 years of age, a frequent attendant upon the services of the parish for the six months next preceding the election and a regular contributor and pledger of record, or a member of a family unit which is a regular contributor and pledger of record for the support of the parish; PROVIDED (1) a husband and wife shall not both be members of the vestry at the same time; and (2) members of the paid staff (including clergy) of a parish working more than ten (10) hours per week, and their spouses, shall not be eligible to serve.
Jan 28 – Food Ingathering
Feb 4 – Installation of New Vestry
Mark Your Calendar – February 13, 2018 for Annual Mardi Gras Party.
Please Welcome New Members:  Dave and Sue Thomas, and Connie Davis.  Welcome to St. Andrew's.
End of Year Statements are in mailboxes in the Narthex.
 Epiphany Season
A season of four to nine weeks, from the Feast of the Epiphany (Jan. 6) through the Tuesday before Ash Wednesday. The length of the season varies according to the date of Easter. The gospel stories of this season describe various events that manifest the divinity of Jesus. The coming of the Magi is celebrated on the Epiphany. The Baptism of our Lord is observed on the Sunday after Epiphany. The gospels for the other Sundays of the Epiphany season describe the wedding at Cana, the calling of the disciples, and various miracles and teachings of Jesus. The Last Sunday after the Epiphany is always devoted to the Transfiguration. Jesus' identity as the Son of God is dramatically revealed in the Transfiguration gospel, as well as the gospel of the baptism of Christ. We are called to respond to Christ in faith through the showings of his divinity recorded in the gospels of the Epiphany season.
You may enjoy additional information from this 
link.
Update from the Feast of Epiphany Committee
Feast of the Epiphany night was a huge success.  Guests arrived to a glowing Keller hall and to the gentle jazz of the Coffey/Keuther trio.  All anticipated "moving in to the light" with sparklers and fresh air and upon entering the narthex..the welcoming music from Bill Weeks greeted all as each entered with lighted candle.    Following an inspiring homily by Rev. Anne Carriere the following prayer served to rededicate the stained glass window memorial.
A Stained Glass Window Prayer
O Lord God, the whole world is filled with the radiance of your glory:  Accept our offering of this window which we now dedicate to you for the adornment of this place and the inspiration of your people.  Grant that as the light shines through it in many colors, so our lives may show forth the beauty of your manifold gifts of grace; through Jesus Christ our Lord.  Amen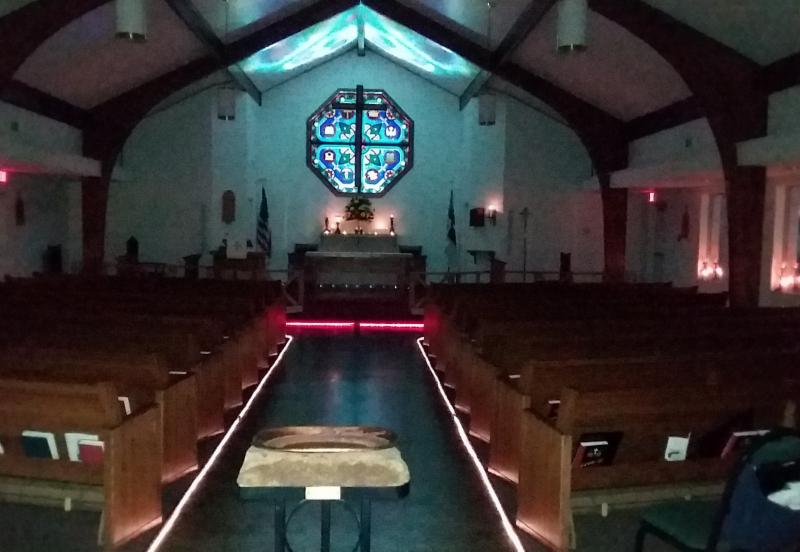 Note:  If you have photos you took at the event and would like to share, please send them to standrewssecretary@gmail.com